Acts of Light
Home Page
About Us
Contact Us

One-Acts
Plays
Monologues
Mystery Dinner Games
The Great Cookie Caper
$Missing Millions$
A Feast For A King
Mystery At Windfall Lodge
Other Writings
PJs Blog
PJs Books
Sermons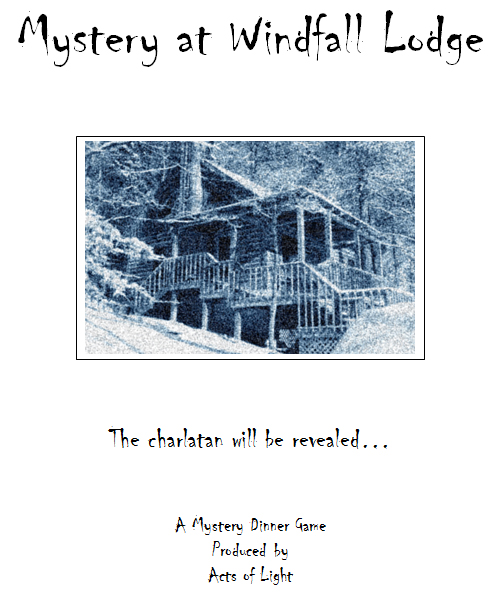 The Story

You don't know much about the purpose of your presence here at the Windfall Lodge. All you know is that you received the following invitation in the mail and it sounded like an opportunity that was too good to pass up.

Your presence is requested at a complimentary evening's stay at the Windfall Lodge to be hosted by Despicable, Nefarious, & Cad, Attorneys at Law. The purpose of this retreat is to discuss a large sum of money you may be eligible to claim. You must attend the evening's activities if you are to qualify for the large sum of money (in excess of 1 million dollars). All arrangements have been made on your behalf.

Please do not contact this law firm with any questions. Any and all questions will be answered if and when you attend the meeting at the Windfall Lodge.

The Charlatan will be revealed…

Until Then, Sincerely Yours,
Despicable - Lead Attorney for Despicable, Nefarious, and Cad


The Players

This game is for between 15 - 20 players.

Despicable, Esq. and Nefarious, Esq. - Lead Attorneys of Despicable, Nefarious, and Cad are the two lawyers that were hired to lead this investigation. They might know more than the rest who are gathered in the room, but they're not talking about it until the right time.

Patty Wilson is a secondary English teacher from a small town. She's a simple, dignified, down-to-earth school teacher. How in the world did she get mixed up in this mess?

Biff Huggins of "Huggins and Kisses" is a world-famous Broadway producer. He grabs everyone's attention as soon as he walks into a room and leaves people talking when he leaves. This sounds like a situation he'd be involved in!

Vince Clortho is a very successful Hollywood movie producer, TV producer, and lecturer. He has devoted his life to doing great work and encouraging others to do the same.

Missy Meadows is a stay-at-home mom who believes that she received this invitation in error. She spends her days caring for her two boys and a girl - something that takes up all of her free time!

Jerome Decker is an entrepreneur Extraordinaire who loves to start new businesses and make as much money as possible. Yeah, he's run over a few people along the way!

Jonathan the Limousine Chauffeur has been driving cars for wealthy clients for many, many years. He's currently driving a Limousine (never call it a "limo" in his presence) for a company who hires him out to a variety of clients.

Rose Charming is a very successful and well loved motion picture and stage actor. She befriended the right people all along the way and that befriending has helped her become a household name.

Jeeves is a butler who has worked for a number of wealthy clients over his many, many years. His upbringing, training, and excellent work ethic make him a butler in demand.

Irma Peterson is a maid who just tries to slide through life working as little as possible. She's willing to do the work required to keep the bills paid, but looks forward to spending as much leisure time as possible.

Michael Talbot is a nationally known talk radio host. His talk show is listened to by more people than the two next talk shows combined. This success hasn't gone to his head. He loves to be around his fans and is often found in conversations with them at restaurants, sporting events, or on the street. I guess he just loves talking!

Vivian Swizzler is a "Domestic Industrious Engineer" - at least, that's what she calls it. Most people call her a "spoiled brat!" She sits at home all day looking for things to occupy her time with. She's rich, at least her dad is, and she has set out to spend as much of his money as possible.

John Watson is a wealthy businessman who has kept to his motto of "work hard and it will pay off." Not very inventive, but it's been effective for this multi-millionaire.

Nathaniel Swizzler is a vice-president of an S&P 500 company. He never tells anyone what company he works for - and nobody really cares anyway. He's run over a number of people on his way to success. I'm sure he won't make any friends at this event either.

Pat Aromeia is a New York City street bum. That's what just about everyone calls her. She's a homeless woman on the streets, looking for food and clothing anywhere she can find them. All of her friends come from the stays at. She can't believe she was invited to this event and cna't wait to see waht all the fuss is about.

Louie is a hot dog vendor on the streets of New York. He too can't beleive that he's invited to this event and can't wait until it's over so that he can get back to his cart and make some more money doing the one thing he loves.

Robin Tripper is a footman in a luxury apartment building in New York City. He knows some pretty important people - some very wealthy ones too! He can make more money on tips each day than most New Yorkers make doing an honest day's work.

Terry Underwood is an award winning broadway script writer. He attributes his success to working with the right people at the right time. He wonders why he's at this event, but is looking forward to the opportunity to network with the right people for his next script.

Penny Boon is an investment and financial advisor to the stars. Everyone knows when she waltzes into a room. She lets everyone know she's coming, everyone know she's here, and announces that she's about to leave. Don't tell her, but quite often there is applause just a moment after she does, in fact, leave a room.


The Cost
The price for this Mystery Dinner Game is $25. See payment details below.

Select the file names below to read, print, or download it. The Control file contains all of the directions you need to play the game.


Mystery At Windfall Lodge Player Booklet

Mystery At Windfall Lodge Player Profiles

Mystery At Windfall Lodge Control File








Copyright ©2015
James E. Bogoniewski, Jr.
These resources are published here for your use.
You can read them, download them, and use them within your group or ministry.
I only ask that you donate to the Acts of Light ministry to cover our expenses.


The recommended donation is $5 for each one-act play you use.
Total cost of $25 per production.
The recommended donation for Christmas and Easter productions is $25 per performance.
The recommended donation for Mystery Dinner Games is $25 per game.


Simply pick the DONATE button below to donate.